Hair is something that all girls get very emotional about. When we hate our current style, we fret about the changes - colour? length? texture? We want what other girls have: curls, volume, wash-and-go straight hair... and when we finally manage to perfect our hair, we need to shelter it from the rain and protect it from the sun to keep it looking gorgeous. Basically, it's a big deal. There are thousands of products out there to keep our hair looking fabulous. These are my top five: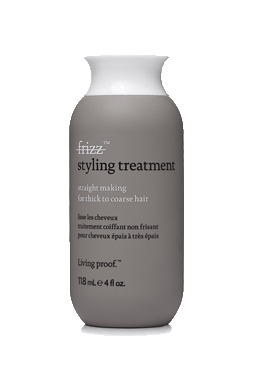 Living Proof Styling Treatment, £19
www.spacenk.co.uk
I was an advocate of Kiehls hair serum, until it got discontinued (I could have cried), however, the lovely people at SpaceNK told me about a little known new product - a straight-making styling treatment from Living Proof. It does help keep my thick, unruly hair in order, and I do get lovely comments about the volume in my hair when I use this product. It smells nice too. The only downside is the price - nearly £20 for a small bottle! Eek. As it's a cream, I need quite a lot to distribute through all my hair, so it's not even like it will last that long, so I will have to keep this hair treat as just that!
Trevor
Sorbie
Professional Beautiful Curls Collection, £5.10 each
www.trevorsorbie.com
I've got naturally wavy hair that I straighten almost always, as it's the only way to make it look presentable for work. At the weekends, or if I'm feeling too lazy to straighten my mop (it takes about an hour!), I leave it to dry naturally, and wave itself. To give it a little helping hand, I use the Trevor Sorbie Professional Beautiful Curls Collection. It contains ingredients to enhance your natural curls. It's a cheap way to ensure you get the most out of your hair. The packaging is really lovely too, and looks very pretty in my bathroom.
Dove Intense Repair Conditioning Treatment, £3.36
www.boots.com


I've always suffered from split ends (largely due to straightening, I assume). I used to sit and snip at them with a nail scissors, a disgusting habit, as there would be hundreds of little split ends scattered all around me! Well, no need for that anymore, as Dove have come up with a wondrous set of products to fix the damage. WOW. The conditioning treatment is my favourite. Like the Aussie 3 minute miracle, it is fast-working, but this little gem has special Fibre Actives which seep deep inside the hair to fix any damage. Magic!
Oilatum, £12.76
www.boots.com
One of the blessings of having lots of volume is that it makes it more difficult to see dandruff. Every now and again I get a blast of it, and it's really hard to shift. I keep any perfumed shampoos and conditioners away from my scalp, and try to use anti-dandruff shampoo wherever possible, but nothing yet has proved itself 100% effective. One product I do rate is Oilatum, it's an anti-dandruff treatment (use like shampoo, but leave on for 5 mins). It's fragrance and colour free, so it shouldn't aggravate a scalp. If anyone has any other tips, to help flaky scalps, I'd love to hear them.
Flower Power, £2
Spittalfields Market (just like Una from The Saturday's


I spent yesterday roaming around Spittalfields Market, East London. I hadn't been for a while. Every third stall (it seemed) was selling these cute flower headbands, just like the one Una's sporting in the picture. They were an absolute steal at just £2, so I picked one up so I can pretend to be a hippy! Great for festivals (or playing dress up at home on a rainy day).