I'm doing pretty well at keeping trim in 2011. The inability to eat on New Year's Day helped somewhat, but I've also loaded my fridge with fresh fruits. My favourites are listed below...


Of South American origin, these juicy little fruits are absolutely delicious. There are two varieties - purple skinned and yellow, although I've never seen the yellow version in the UK. Passion Fruits are super sweet, and have a sloppy/sludgy texture inside - unusual on your first taste. These little beauties are a great source of vitamins A & C and Potassium, and the seeds are a good source of fibre. Research has also found that passion fruit juice reduces cancer cells too - bingo. The biggest, juiciest passion fruits come from Colombia, so look out for this on the fruit packet!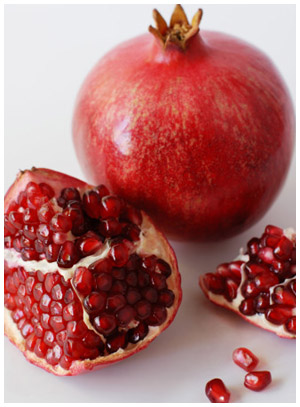 Pomegranate, approx £1.50
Pomegranate juice contains the highest antioxidant capacity compared to other juices. Antioxidants are the naturally occurring substances in plants that protect the body from free radicals - 'bad' chemicals in the blood. As well as tasting delicious, Pomegranates are also loaded with vitamins A, C, E and iron. The fiddly seeds can be messy to release, so I'd advice picking them up from M&S where the seeds have already been freed. You'll be glowing with health in a week's time.

One of the many health benefits of grapefruit is that it can help people lose weight, as it's low in sodium, high in fat burning enzymes and has a high water content. These things combined speed up the metabolism to keep you skinny. Therefore, grapefruit is a powerful fruit for people trying to get rid of their post-Christmas belly. I hate to pick favourites, but as well as tasting sweeter pink grapefruits contain over fifty times the cartenoids of white grapefruits, which are converted in the body to vitamin A - which is great for skin.
So long as you know when to stop, Pineapples are sooo good (we've all burnt our tongues from eating too much, right?!). This scrumptious fruit is also high in vitamins B1, B2, B6 and C. It also helps digestion at the end of a high protein meal thanks to an enzyme called Bromelaian, that also breaks down excess mucus, so it's ideal for relieving systems for conditions like bronchitis, sinusitis and asthma
If there was one fruit I couldn't give up, it would be Raspberries. I'll handily never have a need to give them up, as technically, I could grow them in my garden, as they thrive in Europe - even in the UK! Raspberries are packed with fibre, to keep you feeling fuller for longer, and manganese - a mineral that helps keep your metabolic rate high, which in turn burns fat. Woo hoo. Preliminary medical studies have also found consuming raspberries regularly can help protect against cancer, cardiovascular disease, diabetes, cognitive decline and eyesight degeneration, so pick up a punnet of these delicious berries and throw them on your cereal!
Have a very juicy new year! x